"And Now It's Time for a Breakdown..."
"Never gunna get it, never gunna get it, never gunna get it, never gunna get it...A whoa-whoa-whoa!!!" ~En Vogue
Well hello out there! It has been a hot minute since I shared what's been going on! I hope you all enjoyed the Financial Cleanse and learned a few things. Since then I have been busy, including 2 road trips to the Portland, OR area, and spending lots of time with my loved ones. Let's get to it!
When last we spoke, I was heading to Vancouver, WA with my mama to spend time with my friend, Jessica, who just had twins! TWINS, I tell you! An adorable daughter, named Lydia, and an equally adorable son, Elliot. These little babies have an older sister, Brynn, who I spent a lot of time with. 3 is such a fun age!
Jessica with her beautiful children
My mom with both the babes. My mom was in heaven! Thanks again mom for all of your help! It was nice to be able to visit with Jess and take a break. Plus it meant I got to eat a gluten free, vegan pizza, TWICE! So good, oh so good. MOD pizza had just opened in Vancouver and I am desperately hoping they come to Boise. Check them out if you ever get the chance!
All 3 kiddos. Brynn is too cute! She is such a good, big sister.
We were able to get to Portland to visit the Oregon Museum of Science and Industry (OMSI), which was pretty cool. I had never been there before and there is so much to see! They had exhibits on a human's gestation period, dinosaurs, sustainability, and more! As a science nerd, I was pretty into it.
While my mom and I were in the area, we decided to road trip it to the Oregon Coast. It had been nearly a decade since I had been there so we figured we had better fix that! We went to Astoria and saw where the Columbia River meets the Pacific Ocean. There has been so much snow and rain this year! We followed the Boise, then the Snake, then the Columbia River all the way to Portland and could not believe how full they all were!
We drove on to Cannon Beach, as well, as Hay Stack rock is always so gorgeous to see! If there are any Goonies fans out there, Astoria and Cannon Beach should sound familiar. We tried to visit the Goonies' house in Astoria but there are signs all over asking people not to stop and to refrain from taking photos. So being the good girl that I am, I followed their requests. But it was still fun to drive by. Then we drove on down the coast to Cannon Beach and stopped at Mo's for some clam chowder for Jess and my mom. Plus we had to stop and get some salt water taffy for my dad in Seaside.
Again, while in the area, we took advantage of some of our extra time and drove down to Beavercreek to see this lovely lady, my pal, Alison! It was so nice to be able to visit her and her husband, Carl, in their new home in Oregon! They moved back from Hawaii in October and we had not been out there yet! They showed us around and met us in Portland for some ramen. Guys, the food in Portland is such effin' good. I am grateful that Boise generally follows Portland's trends. I just need to be patient and wait for our City to catch up!
And this is Miss Mabel! She is such a sweet girl! I can't wait for her and Winston to meet!
After a week in the Pacific Northwest, we headed home back to Boise. Spring had sprung and everything was flowering!
I love this tree in the Spring time!
In addition, Powderhaus had its first Beer Pong event! Carey and I competed as the "Brunette Bombers" and got 5th out of 15 teams! We were the top female team and ya know, that ain't bad! (as you can see I broke my alcohol-free streak. I went 2 months. It was helpful so in general I don't drink much but I am not completely refraining at this time.)
Then we headed back to the Portland area this last weekend to celebrate 2 of our friends' birthdays. Chase and Lauren turned 30 this past week so we went to Edgefield to commemorate the occasion!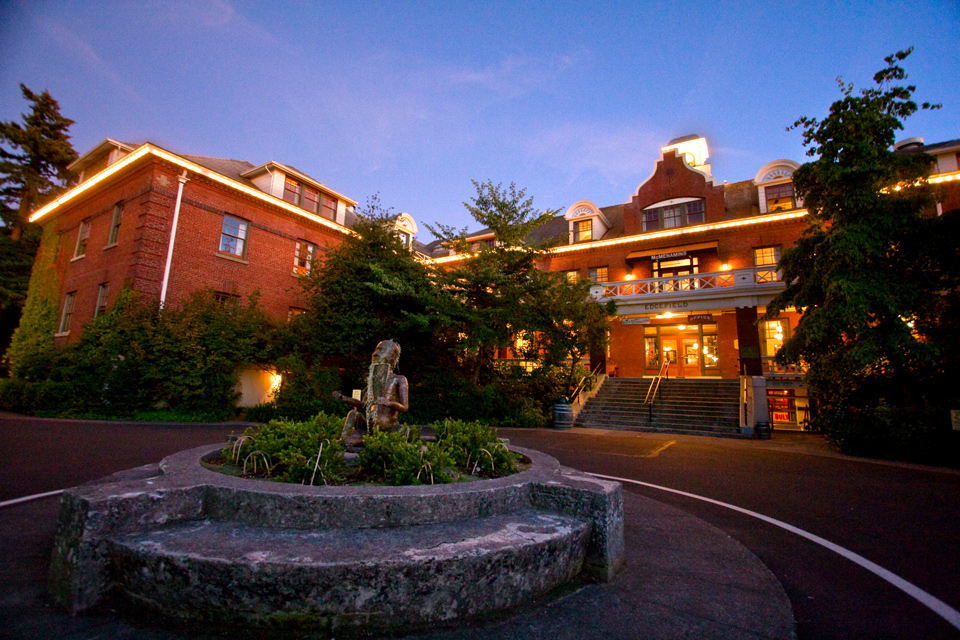 I had never been to Edgefield but had been to Forest Grove, one of McMenamin's other hotels, so I knew what to expect a little bit. The grounds are so beautiful and there was so much to do! There was golf, soaking pools, shuffleboard, Cajun tater tots(!!!), beer, and amazing friends, making it a very incredible weekend!
The whole group! There were 20 of us who all celebrated. We had such a great time and are so grateful to have become such good friends with these people!
My handsome husband drinking a Ruby after golf, while sitting around the fire pit.
And finally, the last bit of news to share is much more sobering. My grandma Tucker passed away yesterday. She was 86 years old and had lived a long life, with the last few years not being the most comfortable for her. I have many fond memories of her and I hope she has found peace. I love you, grandma!
My brother, Dusty, grandma, and me in March of 2000.
My happy place: blue skies, white puffy clouds, surrounded by trees, listening to the birds chirp
.
That's the breakdown! I hope you all have a great rest of your week!